All young people attending Track Academy have the opportunity to be coached in Athletics and Multi Skills. You don't need to be especially talented when it comes to athletics.  You just need to want to have some fun!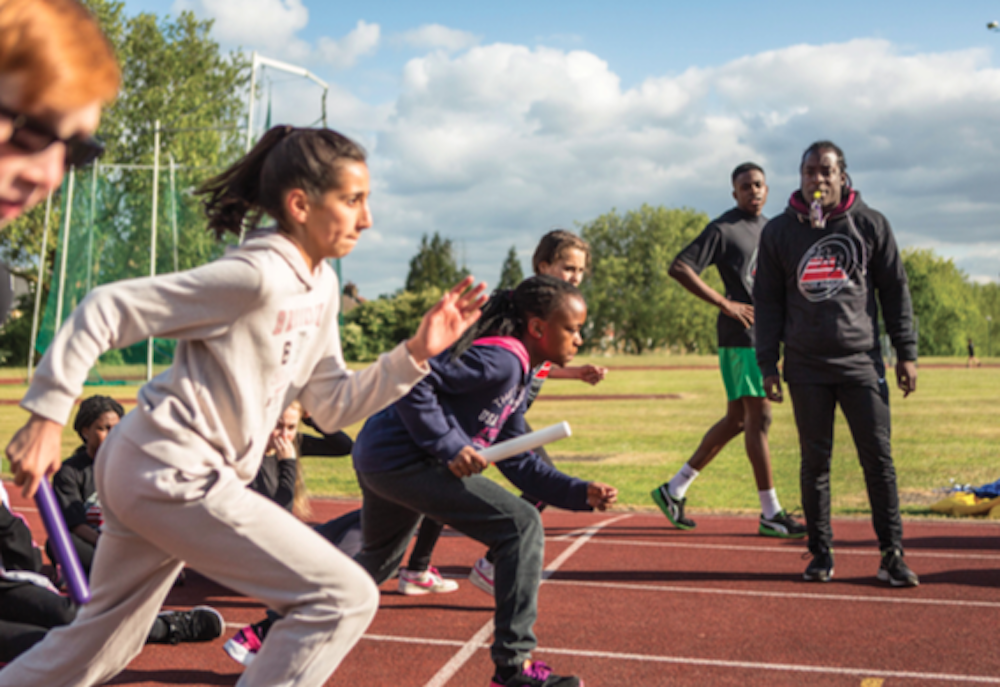 Clarence Callender - Head Coach Track Academy
Born in Newham on 16 November 1961, Clarence Callender combined his passion for athletics with a military career. His talent and dedication resulted in a silver medal at the Seoul 1988 Olympics in the 4×100 metres relay. Apart from his Olympic achievement, he also won medals in the 4×100 metres at the Commonwealth Games, a silver medal in 1986 and a gold medal in 1990.
Clarence is Head Coach at Track Academy and is working with the elite squad. Coach Clarence also works with one of the Governing Bodies of British Athletics imparting his great knowledge on other coaches up and down the country. We are very proud of him and all he has achieved and continues to achieve on behalf of English Athletics and Track Academy.
Nigel Small - Athletics Coordinator / Coach
Nigel Small played as a semi-pro footballer and coaches for Queens Park Rangers as well as 1st team coach for the Royal Holloway University. He has been coaching athletics for the past 17 years and has been very lucky to work with some very talented young athletes that have gone on to win County, National and English Schools Championships. Nigel has coached athletes that went on to gain under 23 Great Britain vests.  Nigel now specialises in sprinting and jumps.
Tony Jarrett - Coach
Tony Jarrett is a former hurdling Olympian. He was a silver medallist in the 110 metres hurdles at the IAAF World Championships in Athletics in 1993 and 1995, and at the European Athletics Championships in 1990 and won the gold medal in the event at the Commonwealth Games in 1998. He is Track Academy's residential hurdles coach.
Ieva Usackyte - Coach
Ieva is a UK Level 2 Athletics Coach, covering the key range of events. She has over 15 years of experience in sports and is a Martial Arts specialist. She regularly coaches the youngest members of our Middle distance group. Ieva loves to see the progression of our young athletes as they develop their discipline in Athletics whilst having fun.
Mike Comissiong - Coach
Michael Comissiong was born in Grenada in 1952 and came to England in 1961. Sporting wise, he participated in anything associated with sports, from able tennis to martial arts, on land water or air. After school and several seasonal end jobs he spent 3 years in the Royal Artillery serving in Germany and Northern Ireland.
In 1973 after leaving the army he went with his brother to TVH and just loved it, from that day he knew what he wanted to do. When Mike got married he had children and left athletics, but as they grew they showed an interest in athletics so he took them back to TVH where he was invited to coach. Mike has been coaching now for 25 years and though often frustrated, he is touched by seeing young lives changed and improvements in their abilities.
Susan Williams - Coach
Susan is a UK Athletics Level 2 Throws Coach for Shotput, Discus, Hammer and Javelin, coaching athletes from complete beginners to experienced throwers. Susan is also a qualified Athletics tutor.
Jade Smith-Brown BSc Hons - Physiotherapist
Having been raised in Wolverhampton, Jade moved to London to study Sports Rehabilitation & Injury Prevention at Middlesex University; graduating in 2008. She completed professional practice placements at the London Marathon Show, BUCS, and Lee Valley Athletics Centre of Excellence. She has since provided private treatment for many athletes in and around Team GB, including the 2008 400m Olympic Gold Medallist, Christine Ohuruogu. She has been linked with Track Academy at Willesden Sports Centre since July 2010 and has found it more than rewarding aiding these young men and women towards fitness, functionality, and their life goals.
Zoe Robson
Zoe Robson is our multi-skills coordinator and development group coach. She is a qualified Level 2 Multi-skills and Licenced UKA Coach. Zoe is currently completing an internship with Track Academy whilst studying BSc Sport, Health and Exercise Sciences (Human Performance) at Brunel University. Zoe has a passion for developing children's fundamentals: agility, balance and coordination, so they can strive to become successful athletes.