Introducing the Track Academy Toddlers programme, a bespoke series of fun, interactive and educational athletics sessions for toddlers up to 4 years. Track Academy have branched into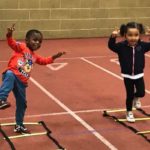 the world of tots, combining our sporting expertise and our Education and Mentoring Programme to provide sessions that grow and sustain tots abilities both physically and developmentally.
On average, tots make the transition from walking to running between 18 and 24 months old. After that, they just want to RUN! Typically, it is recommended that toddlers get at least 30 minutes of structured (adult led) physical activity and 60 minutes of unstructured (free play) physical activity.
The Track Academy Toddlers Programme channels that energy so that our toddlers are well engaged in safe physical activity and that is fun and informative. The 12 week RUN, JUMP, THROW programme has our tots dabbling in each athletic discipline from week to week. Each week is focuses on a discipline and a related muscle group.
Our tots explore the muscle and bone structure of the human body through warm up activities, eventually matching and making connections between their anatomy and their movements, in engaging ways they can understand. The programme is coached by Track Academy's very own Athletics coaches and run and co-ordinated by a dedicated team of sports enthusiasts.

Sessions run on Wednesdays from 10am to 12pm.