Track Academy's Home Educated programme provides dynamic, tailored PE sessions to children who are educated at home. This 12-week programme is designed to develop children's fundamental movement skills, balance, co-ordination and agility. We want to encourage a love of sport and exercise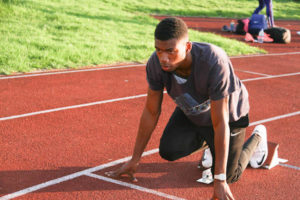 se in KS1 and KS2 children, which can be sustained through life. The sessions will be guided by the National curriculum, so that all our students gain the skills conferred by it, however, we have decided to take on a much more malleable approach. The small class sizes were a deliberate decision in an effort to provide a personalised set of effective sessions where each student receives ample attention.
As a Track Academy project, the Homeducated team work alongside the education and mentoring department so that each student is given a tailored term report which focuses on their individual strengths and weaknesses.
Our PE programme and style of training improves physical fitness and skill, and encourages self-discipline, however the benefits are two-fold since physical activity naturally reduces stress. The Homed. Programme provides an opportunity for strengthened peer relationships and improved social skills as well as improved academics!
Sessions run on Monday mornings from 10am – 12pm