All young people attending Track Academy have the opportunity to be coached in Athletics and Multi Skills. You don't need to be especially talented when it comes to athletics.  You just need to want to have some fun!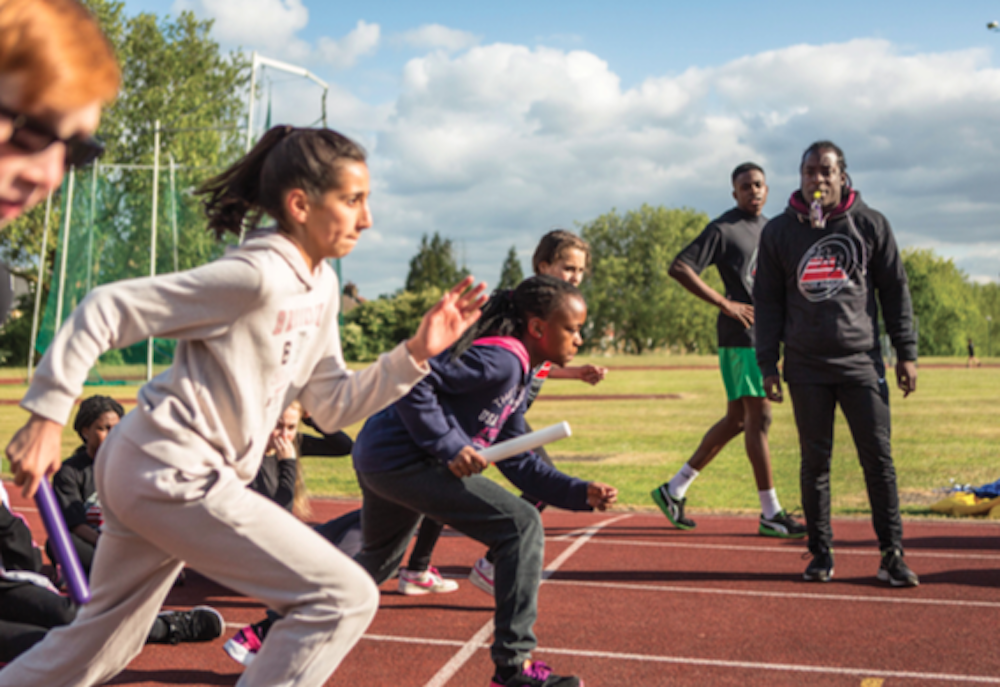 Clarence Callender - Head Coach Track Academy
Born in Newham on 16 November 1961, Clarence Callender combined his passion for athletics with a military career. His talent and dedication resulted in a silver medal at the Seoul 1988 Olympics in the 4×100 metres relay. Apart from his Olympic achievement, he also won medals in the 4×100 metres at the Commonwealth Games, a silver medal in 1986 and a gold medal in 1990.
Clarence is Head Coach at Track Academy and is working with the elite squad. Coach Clarence also works with one of the Governing Bodies of British Athletics imparting his great knowledge on other coaches up and down the country. We are very proud of him and all he has achieved and continues to achieve on behalf of English Athletics and Track Academy.
Nigel Small - Athletics Coordinator / Coach
Nigel Small played as a semi-pro footballer and coaches for Queens Park Rangers as well as 1st team coach for the Royal Holloway University. He has been coaching athletics for the past 17 years and has been very lucky to work with some very talented young athletes that have gone on to win County, National and English Schools Championships. Nigel has coached athletes that went on to gain under 23 Great Britain vests.  Nigel now specialises in sprinting and jumps.
Tony Jarrett - Coach
Tony Jarrett is a former hurdling Olympian. He was a silver medallist in the 110 metres hurdles at the IAAF World Championships in Athletics in 1993 and 1995, and at the European Athletics Championships in 1990 and won the gold medal in the event at the Commonwealth Games in 1998. He is Track Academy's residential hurdles coach.
Susan Williams - Coach
Susan is a UK Athletics Level 2 Throws Coach for Shotput, Discus, Hammer and Javelin, coaching athletes from complete beginners to experienced throwers. Susan is also a qualified Athletics tutor.
Jade Smith-Brown BSc Hons - Physiotherapist
Having been raised in Wolverhampton, Jade moved to London to study Sports Rehabilitation & Injury Prevention at Middlesex University; graduating in 2008. She completed professional practice placements at the London Marathon Show, BUCS, and Lee Valley Athletics Centre of Excellence. She has since provided private treatment for many athletes in and around Team GB, including the 2008 400m Olympic Gold Medallist, Christine Ohuruogu. She has been linked with Track Academy at Willesden Sports Centre since July 2010 and has found it more than rewarding aiding these young men and women towards fitness, functionality, and their life goals.
Zoe Robson
Zoe Robson is our multi-skills coordinator and development group coach. She is a qualified Level 2 Multi-skills and Licenced UKA Coach. Zoe is currently completing an internship with Track Academy whilst studying BSc Sport, Health and Exercise Sciences (Human Performance) at Brunel University. Zoe has a passion for developing children's fundamentals: agility, balance and coordination, so they can strive to become successful athletes.
Jimmy Thoronka
Jimmy Thoronka is a track and field athlete and in his career he has participated in a number of championships which include the Youth Olympic Games in Singapore, Youth Commonwealth Games in the Isle of Man, African Championship in Burkina Faso, ECOWAS games in Ghana, and the 2014 Glasgow Commonwealth Games.
He particularly enjoys coaching young children and teenagers and wants to be a positive role model to them.  "During the time I have been by working with Track Academy in North-West London, it has really inspired me to contribute towards improving the sports experience available to the local community, by helping the athletes reach their goals and learn about how they can cope with the challenges in their lives".
He is still competing as an athlete and his personal aim is to become more competitive and to do so by attaining a high level of well-being and good health which would enable him to achieve his end goal of running a championship time in 100m and 200m.
Nilrem Stewart
"I have been a Track Academy athlete for 7 years now, since joining track academy I have gained various qualifications such as sports leadership, fitness instructor L2, personal trainer L3 and I have recently completed a course to gain an athletics coach L1 qualification".
"What got me involved in track academy was not just my sheer love for sports but meeting new friends made me closer to the organisation. Track Academy helped me progress on the track by winning medals and the Middlesex indoor and outdoor championships. Track academy also held maths classes before training sessions helped me to pass maths at GCSE level. My main aim I am focused on right now is completing my final year of university and doing my best and graduating with the best grades possible and hopefully excelling on the track in the near future".
Amar Aichoun
"I am a coach at Track Academy who has a Level 1 qualification (via Game Changers) working towards my Level 2 coaching qualification. I am also an Athlete competing for Great Britain. I have been to the Gold Coast Commonwealth Games in 2018 which I became a 100m finalist".
"I have always loved the sport of Athletics. Since I was young, I loved to run fast and always raced my friends in school and out of school in the park or streets of Willesden. I grew up to find out I had to find myself a coach so I headed to Track Academy. I admire the challenge of coaching young children to become better athlete's as well as better characters. I aim to help make a change towards these athlete lives as well as pursuing my sporting career. This will help me gain experience working with athletes as well as being an athlete myself. "
Venus Benjamin-Maclean
"I am currently fulfilling a placement year with Track Academy, having completed my second year of Sport and Exercise Science at University of Essex. I have been a member of the Track Academy family since the age of fourteen, and have become passionate not only for athletics, but the science behind sport performance."
"I intend to achieve from my placement year, valuable experience and a level 2 coaching qualification. I also hope to have a positive impact and assist young athletes thrive in their athletic performance and education."
Tayla Brade
Tayla Brade is a qualified coaching assistant and Track Academy Alumni. From the age of 15 she competed at a national level becoming a multiple County, South of England, National and English Schools medallist. She is currently studying Journalism BA Hons at The University of Arts London and wants to give back to Track Academy through coaching and mentoring.
Christopher Davis
Chris has completed a level 2 qualification in sports science and is currently studying for a level 3. He has also gained a NPLQ Lifeguarding qualification and game changers  level 1 athletics coaching qualification. He has a passion for sports and coaching," Track Academy has given me the opportunity to do the things I enjoy and be able to pass on my knowledge and experience to the next generation". My aim is to develop my own coaching skills through a level 2 course.
Lumar Sylvester
Lumar is a national Level athlete with about 8 years of experience as an athletics sprint coach. He a is a county champion, south of England champion and a national finalist. He has also gone onto training with one of Team USA's top sprints Coach Bob Kersee who is responsible for coach athletes such as Flo Jo, Gail Devers, Allyson Felix, Shawn Crawford, Dawn Harper and many more Olympians.
Jonathan Leiper
Jonathan Studied Sports Health and Exercise Sciences as an undergraduate at Brunel University and have a background in Athletics, competing in sprint disciplines for both club and University. "This has given me a sound theoretical and practical foundation upon which to develop, I am currently completing my level 2 athletics coach qualification and plan on working with senior coaches to continue to develop".