About Track Academy
The future takes care of itself when you support young people in the present. That's the Track Academy way.
Who we are...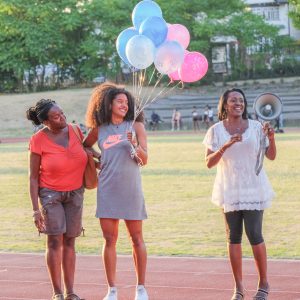 Track Academy is made up of former international athletes, coaches, mentors, teachers, business professionals and passionate volunteers.
We are mothers, fathers, brothers, sisters, aunts, uncles, grandparents and friends who each play our part in making our community the best it can be.
Everyone in the Track Academy family shares a common belief; that sport and education are a match made in heaven and have the power to change lives for the better.
Through our innovative combination of sport, education and mentoring, Track Academy empowers young people to achieve outstanding and, more importantly, sustainable outcomes. We know this because, for some of us, it has been our story as well.
To gain a deeper understanding of our work, please read our latest Annual Report by clicking here.
What we do...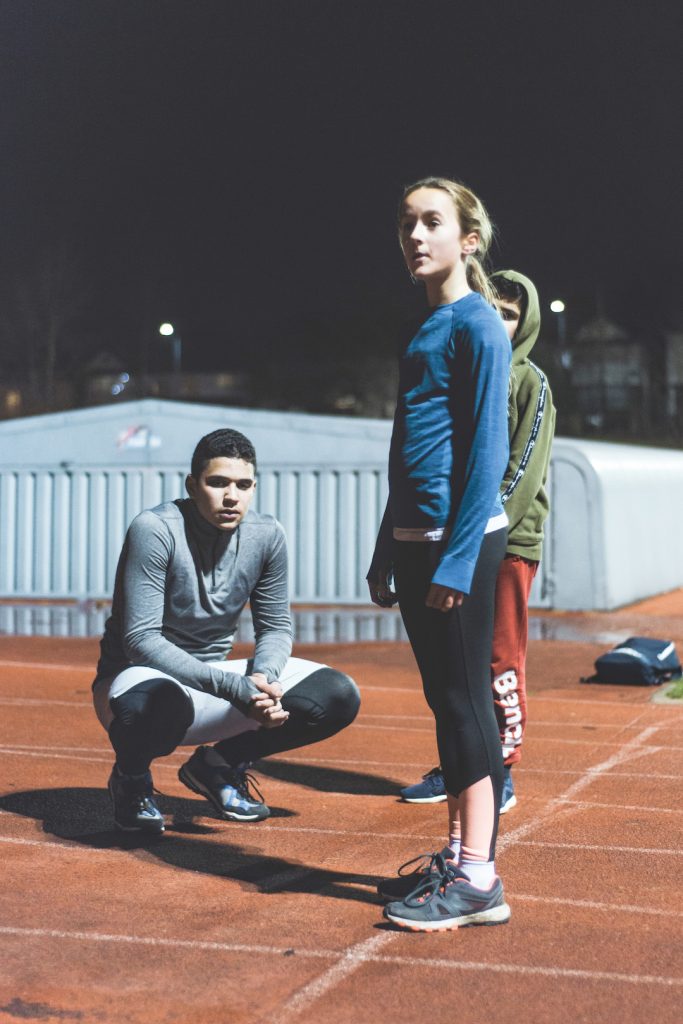 We help disadvantaged young people in London realise they are more than the circumstances into which they were born. We do this by supporting them to fulfil their true potential and develop as positive members of their community.
Ours is a nurturing environment in which our young people can:
build their confidence
acquire new skill sets
affirm their self-value
support each other
plan their future
positively address inequality
gain a sense of belonging
become role models
Currently, we have 380 young student athletes who train and learn with us every week.
How we do it...
Through three athletics sessions a week, 50 weeks a year, at the Willesden Sports Centre
Over 350 young people make more than 50,000 visits to our sessions each year
A wide range of education and tutoring workshops are provided, along with skills and training activities
We offer group and 1:1 mentoring
Proven record
We help our young people build their confidence, and their faith in their own ability to positively affect their lives, both now and in the future. Our aim is to increase participants' academic performance and personal growth strategies, as well as their employment opportunities and physical health and fitness.
With a firm understanding of issues such as truancy, anti-social behaviour, poor discipline and concentration, and obesity, the Track Academy team has a proven record in delivery. What's more, we are well placed to continue delivering these desirable outcomes for the foreseeable future.
Our founder Connie Henry MBE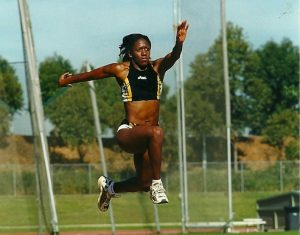 Connie's drive to help the disadvantaged young people of Brent comes from her own background, growing up in the borough as part of a chaotic family. She found solace at the Willesden Sports Centre, where Track Academy is now based, and where her natural talent for athletics was noticed.
She went on to become an international athlete, winning the bronze medal in the 1998 Commonwealth Games in Kuala Lumpur. After her retirement in 2000, she then moved into sports journalism, providing commentary for broadcasters such as Eurosport, Sky and the BBC. She also worked with boxing promoter Frank Warren, a role which saw her broadcast from the heavyweight match between Vitali Klitschko and Danny Williams in Las Vegas.
As the director of Track Academy, Connie continues to drive and motivate others using her lived experiences and excellent leadership skills.
She has several mantras by which she lives, the essence of which can be experienced at Track Academy. These are:
It's not about the destination. It's about what you learn on the way and what you do with that information
Surround yourself with people who know more than you do
Hard does not necessarily mean bad
What you want to do isn't always the thing you should do. But the thing you should do normally gets you what you want
Sport Gives Back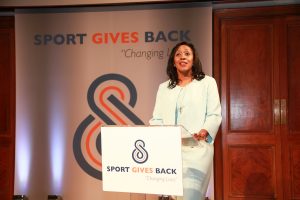 Connie was the brainchild behind the inaugural Sport Gives Back Awards, which took place in early 2020. The concept of the ceremony was to celebrate the work of organisations like Track Academy, which change people's lives through sport and movement.
Ten charities from across the UK chose their winners, while the event was sponsored by corporate organisations such as Nationwide, British Athletics and DHL.
The ceremony, which was later broadcast on ITV, was attended by sporting luminaries including Lord Sebastian Coe, Dame Kelly Holmes, Daley Thompson and dancing legend Dame Darcey Bussell. The Sport Gives Back Awards can be viewed here.
Back to Movement
Connie secured strategic funding from Sport England to launch a new initiative in Brent in response to Covid-19. The borough was disproportionately affected by the pandemic, both in terms of cases and deaths, and Connie identified that it would take some time for its residents to become active again in its aftermath.
Therefore, she devised a scheme whereby local people could enjoy a wide range of activities in their community, all for free. This programme is currently underway, with a variety of activities on offer, from Buggyfit sessions to a golf programme with the Jason Roberts Foundation. More details on all the activities can be found here.
MBE
Connie's achievements were recognised in the Queen's Birthday Honours in 2022, when she was honoured with an MBE for her Charitable Services to Young People through Sports and Education. She was later one of 200 people from the Honours' list to be invited to attend the Queen's funeral.
Our coaches
 

Nigel Small: Head Coach

Nigel is a former semi-pro footballer, who coaches for Queens Park Rangers. He is also first team coach at Royal Veterinary College. Having coached athletics for the past two decades, Nigel has been lucky enough to work with some very talented young athletes that have gone on to win county, national and English schools' championships. He has also coached athletes who went on to gain under-23 Great Britain vests. Nigel now specialises in sprinting and jumps.

 

Tayla Brade

Tayla is a qualified coaching assistant and Track Academy alumna. From the age of 15 she competed at a national level becoming a multiple county, South of England, national and English schools' medallist. She wants to give back to Track Academy through coaching and mentoring.

Rosslyn Danquah

Rosslyn is one of our student athletes who showed a keen interest in coaching. She has since qualified as a coaching assistant. Rosslyn is currently attending college with aspirations to study sports psychology at university. She hopes that her experience in coaching, specifically the multi-skills sessions, will help her achieve this goal.

Chris Davis

Chris has completed a level 2 qualification in sports science and is currently studying for a level 3. He has also gained a NPLQ lifeguarding qualification and Game Changers level 1 athletics coaching qualification. He has a passion for sports and coaching. He said: "Track Academy has given me the opportunity to do the things I enjoy and be able to pass on my knowledge and experience to the next generation. My aim is to develop my own coaching skills through a level 2 course."

Martin Hunt

Martin's athletics career started in 1987 as a 200m/400m sprinter with Ealing Southall & Middlesex AC training at Perivale Park. He has been a professional sports massage therapist for the past six years, while he is also a personal trainer and coaching assistant. Martin is ITEC level 3 qualified and insured. He offers sports massage, deep tissue and tuina massage, and uses various modalities such as dry cupping, IASTM, massage gun and K Tape certification.

Josh Kelly

Josh is a qualified coaching assistant and usually helps coach the multi-skills group at Track Academy. He is also a competing athlete and is highly committed to training, having earned medals at county championships.

Josh uses his experience as an athlete to develop his skills as a coach. He looks heavily towards an athlete-centred approach as he knows personally how impactful that can be on a student athlete's development.

Josh is currently studying physiotherapy at university.

Sam Nash

Level 2 athletics coach Sam has been coaching for over 20 years and competing for longer. His main coaching disciplines are sprints (100m, 200m and 400m) plus long and triple Jump. In the past, Sam competed for Middlesex and Southern Counties in long jump, triple jump and 4 x 100m relay.

Sam is a Master Athlete competing for Southern Counties Vets and Thames Valley Harriers. He has represented the British Masters at the European and World Championships, gaining a bronze medal in 2017 in the long jump. He placed sixth in the final at the World's Master Championships in 2018. Sam is still competing as a Vets Athlete.

Lumar Sylvester

Lumar is a national-level athlete with a decade's experience as an athletics sprint coach. He a is a county champion, south of England champion and a national finalist. He has trained with one of Team USA's top sprints coach, Bob Kersee, who has coached athletes such as Flo Jo, Gail Devers, Allyson Felix, Shawn Crawford, Dawn Harper and many more Olympians.

Jimmy Thoronka

Jimmy Thoronka is a track and field athlete. In his career, he has participated in a number of championships including the Youth Olympic Games in Singapore, Youth Commonwealth Games in the Isle of Man, African Championships in Burkina Faso, ECOWAS games in Ghana and the 2014 Glasgow Commonwealth Games.

He particularly enjoys coaching young children and teenagers and wants to be a positive role model to them. He said: "Working with Track Academy has really inspired me to contribute towards improving the sports experience available to the local community, by helping the athletes reach their goals and learn about how they can cope with the challenges in their lives."

Jimmy is still competing as an athlete. His personal aim is to become more competitive and to do so by attaining a high level of well-being and good health which will enable him to achieve his end goal of running a championship time in 100m and 200m.
Our trustees
Claudia Wilmot: Chair

I'm currently operations director of Leaders, delivering project management consultancy for companies such as NBA, UFC and the Brentford Community Stadium Build. I have over 15 years' project management experience delivering high profile complex projects including the London 2012 Olympic & Paralympic Games, as well as for a number of clients across a range of commercial sectors including Morgan Stanley, HSBC, EGG, Severn Trent Water and Barclays Mercantile. I'm passionate about sport legacy and ensuring young people have the access to be inspired and involved in sport locally.

Michael Adams

My 40 years' experience spans a multitude of disciplines in both private and public sector settings across four continents. On the sporting front I have been a professional footballer and an international head coach of the Island of Grenada on two occasions. In the public sector I have led economic growth and social inclusion initiatives both in the UK and the Caribbean on behalf of the Organisation of American States. I have worked with a variety of charities as a trustee and sponsor. I am passionate about giving those people in life a voice, where society leaves them behind.

Patrik Ewe

I have spent over 16 years working across many areas of fundraising at both small and national charities including Barnardo's, Age UK and Laureus Sport for Good. I continue to volunteer at charities, currently holding roles at the Running Charity and Amnesty International Lambeth. I'm enthused to help disadvantaged young people change their lives on and off the track. I'm also jealous that I don't have as many fast twitch muscles as our student athletes.

Steve McKoy

I became a trustee six years ago having spent the previous two years mentoring Track Academy's student athletes. Although never reaching the lofty heights of some of our athletes, I enjoyed a former life as an average level 100m runner. I worked for almost 25 years in the education, sport and fitness arenas. As well as a strong desire to positively impact young people, I also have a passion for encouraging people to take responsibility for their health. To this end, I am the founder of The Raw McKoy, an online platform providing natural health resources in relation to chronic illnesses.

Amechi Okafor

I'm a former county standard 400m athlete who has spent over 20 years working within environmental protection. I'm currently an assistant branch secretary of the GMB Union. I have been on the board of Track Academy since its inception.