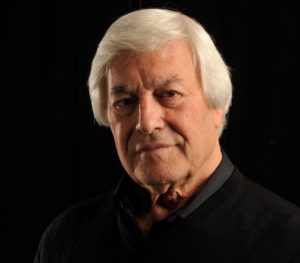 Veteran sports journalist Colin Hart shares the wealth of his experience with Track Academy, in a series of blogs:
British athletic fans are privileged to be able to bid a fond farewell on behalf of billions around the globe to two of the greatest track and field stars of all-time.
Usain Bolt and Sir Mo Farah are hanging up their spikes for good at the end of August's world athletic championships at the London Stadium.
In what is bound to be a highly emotional moment for both of them  there can't possibly be a more fitting place to depart the track than where they won Olympic titles five years ago.
It's hard to believe there will ever be anyone capable of running faster than Bolt - but obviously in the fullness of time somebody will.
It sounds incredible but Usain, Jamaica's charismatic, jet-propelled super-star will be aiming to collect his 19 major gold medal.
And if Farah can complete his fifth 10,000 and 5000 double at a global championship he can legitimately claim to be the greatest ever distance runner.
I'm sure on the opening two nights, nothing would give the 50,000 sell-out crowds more pleasure than seeing Bolt and Farah, making golden goodbyes.
These will be the 16th world championships and before I retired in 2000 after more than 30 years as the athletics correspondent of The Sun, I covered seven of them.
My first was the inaugural meeting in Helsinki in 1983 and my last was Seville in 1999. In that 16 year period I had the good fortune to witness so many astonishing performances from men and women who became legends.
I have been given the extremely difficult task of picking out a few of my fondest memories. When nostalgia kicks in the following names are the few that quickly come to mind.
Carl Lewis, Michael Johnson, Sergei Bubka, Linford Christie, Colin Jackson, Daley Thompson, Jonathan Edwards, Mike Powell, Haile Gebrselaisse, Sally Gunnell, Liz McColgen, Mary Decker, Merlene Ottey, Jackie Joyner and Cathy Freeman.
It was Helsinki where Carl Lewis burst on to the international scene. He won the 100m, long jump and anchored the USA's 4 by 100m relay squad to a gold medal and a world record.
Carl won a total of 9 Olympic and 8 world championship golds and I doubt if there has ever been a more elegant sprinter or fiercer competitor.
Britain managed to win two golds that year. Daley Thompson proving yet again that he was a supreme decathlete. Daley was the only man I came across who hated Christmas Day. It was the one day of the year when he couldn't train - his local Crawley track was closed.
Steve Cram  a mop haired, lanky 22 year old from Sunderland, shook the cream of the middle distance talent with a brilliantly judged burst down the home straight to take the 1500 metres.
Rome in 1987 was miserable from a British point of view. The team returned home without a single gold track medal. Complete gloom was only lifted by Fatima Whitbread who won the javelin to save a little face.
Tokyo in 1991 is arguably the greatest all-round track and field meet there's ever been. Lewis was once again the 100 metres champion -  the first six all finishing under ten seconds.
But by far the stand-out event was the head-to-head fight between Lewis and Mike Powell in the long jump. It was the American field event equivalent of a Muhammad Ali-Smokin' Joe Frazier battle.
It was nail-biting stuff from start to finish. Lewis sensationally leapt 8.91 - a centimetre longer than Bob Beamon's world record that had stood for 23 years. But it was wind assisted.
Beamon's record didn't last much longer. Powell jumped a prodigious legal 8.95 metres to erase Bob's Mexico City Olympic mark. At the end of that incredible competition everyone in the crowd and the press box were left limp.
But there was plenty for the British to cheer about as well. Gritty Scottish lass Liz McColgan, despite the uncomfortable humid conditions, ran her rivals into the ground to score a magnificent 10,000 metres victory.
Despite that wonderful performance the highlight for the Union Jack wavers came with the last event - the men's 4 by 400 metres relay.
Roger Black led off, followed by Derek Redmund and John Regis with Kris Akabusi the anchor. As usual the Americans were the firm favourites to cruise home to victory. Akabusi had other ideas. I shall never forget Kris,his eyes bulging out of his sockets fighting off Antonio Pettigrew like a man possessed to cross the line 4 one hundredths of a second ahead of the American quartet. A lot of British nails were chewed off in those final 20 metres.
They say nostalgia isn't what it used to be. Thinking back to Stuttgart two years later gives nostalgia a good name. British hearts were lifted when Christie gave everyone in the team a morale boost with victory in the 100m. Colin Jackson floated over the 110m hurdles with his immaculate style smashing the world record in a stunning 12.91.
And an inspired Sally Gunnell beat her biggest rival American Sandra Farmer-Patrick by 4 hundreds of a  second for Britain's third gold in 52.7 secs - another world record.
For me there was an amusing sequel to Sally's amazing run. Back in London, my editor, the formidable Kelvin MacKenzie, had seen a BBCTV interview with Sally in which she had said her favourite meal was Peking duck.
MacKenzie had a great idea. He gave instructions that a reporter would buy a Peking duck from one of Chinatown's best restaurants and have it flown out to Stuttgart. I was to meet it at the airport and take it to Sally to eat in the athletes village.
I quickly put a damper on MacKenzie's enthusiasm. I sent a message telling him it was impossible to get the duck the appropriate accreditation to get it past security and into the village at that late stage.
Secondly Stuttgart is a sophisticated city, the home of Mercedes Benz, with at least six top class Chinese restaurants. If Sally fancied her favourite dish she had plenty of choice close by.
And thirdly as she was running in the 400 metres relay that day she was hardly going to fill her belly with Peking duck. End of idea and end of story.
There is no better way to finish my looking back into history than recalling the breath-taking triple jump by Jonathan Edwards. The vicar's son set Gothenburg alight in 1995 with his prodigious winning 18.29m world record. It still stands 22 years later which emphasizes just how much Edwards dominated his event.
Britain has won a total of 91 medals in the previous fifteen world championships - 26 gold, 29 silver and 36 bronze. We are averaging less than two golds every meeting which proves how difficult it is to climb to the number one place on the rostrum.
The lucky people who have tickets for the finals must make the most of very second. Track and field at this level will not return to these shores for at least another  generation.